We at Fleurette strive to offer you a true taste of paradise. Brighten your loved one's day with our exquisite, personalized and handcrafted floral bouquets and arrangements. Alternatively, change how your living space looks and feels with some of our potted plants.
Our range of flowers and plants are specially sourced from suppliers around the world. We provide the freshest flowers to keep your arrangements in bloom for days.
Whether you select an arrangement from our collections on the website or get in touch with us for a special custom design, rest assured that we promise to add a refreshing and opulent feel to any space be it indoors or out.
We firmly believe that there is magic in every stem and we endeavour to craft each arrangement to exactly express your thoughts and feelings, for you.
Meet the Dream Team - Lourdes & Brinda Kamdar
Our unique Mother – in – Law and Daughter – In – Law bond has brought us together to remodel our brand 'Fleurette'. 
Our common affection towards all things beautiful drew us to grow our brand to what it is today. 
Fleurette's humble beginnings started with designing Church flowers and supplying bi-weekly flowers to corporates and later moved to grander events like Cocktail Parties, Weddings and Receptions.
A Sneak Peek into Our Individual Floral Journeys!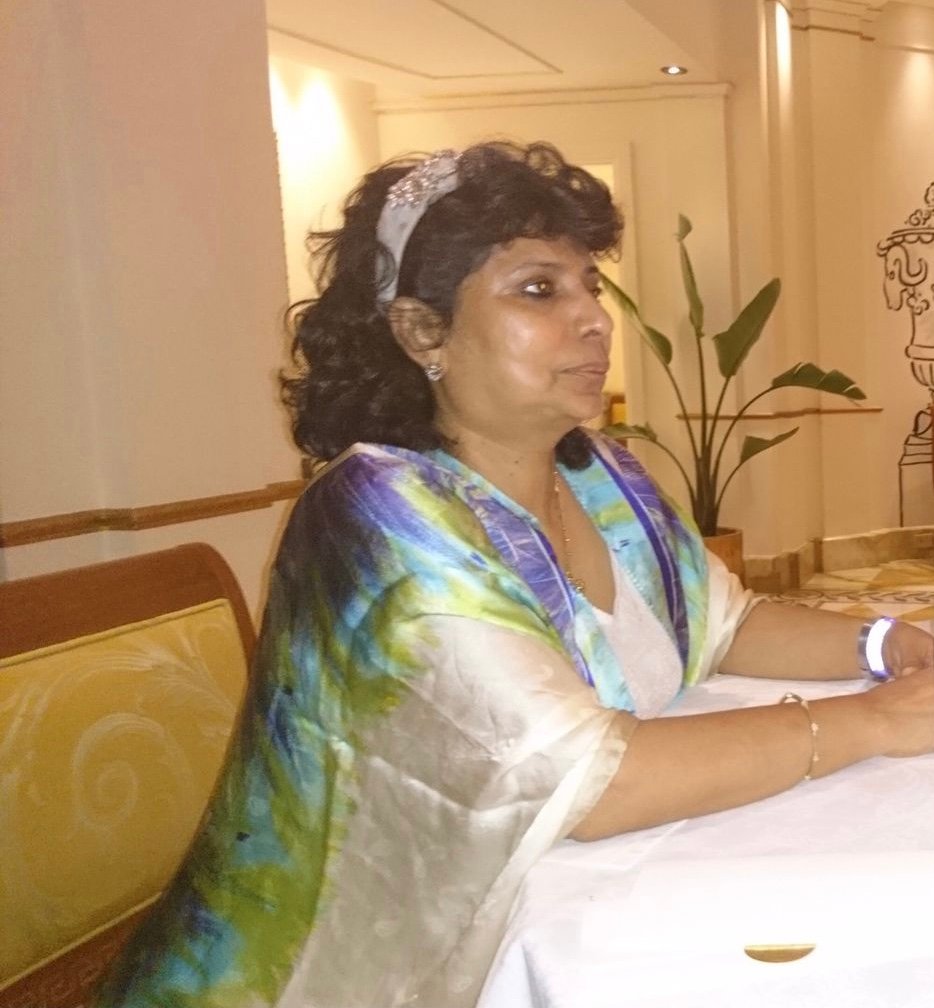 My first tryst with flower arranging began at the age of around 11 years with helping out at a nearby Church for Novena and for Mass every week. Gradually, I started creating bridal bouquets and designing florals for Church ceremonies.
My love for flowers and decor led me to doing a few Floral courses at the Indo American Society as well as the Indo Japanese Association to perfect my skills.
After gaining this knowledge I started my own floral and decor brand 'Fleurette'.
At first, I took to designing and decorating Churches for weddings and creating exclusive Bridal bouquets which later led to large scale events, but this being a seasonal activity, I ventured into corporate contracts supplying bi-weekly flowers and fresh plants to them. I then expanded into the supply and delivery of floral bouquets, vases and arrangements for all kinds of festive occasions slowly bringing Fleurette to its present status.  Along with my daughter in law Brinda I design, curate and implement the day to day running of Fleurette.
Since a very young age, I was drawn to making indoor spaces pretty, it could be events like my own birthday party or helping out with events for my family or friends. 
In the year 2014, when I started assisting my mother-in-law with Fleurette's Events and began working with fresh flowers every day, I truly realized that this is what I was meant to do since the very beginning. 
Exploring this love for fresh flowers and decor led me to surveying the flower markets and various decor suppliers all over India. This gave me an insight into the workings of the floral and decor industry in our country. I also visited the beautiful wholesale flower markets in Netherlands and London to gain a broader perspective of this industry.
These visits drew me to picking up my own fresh flowers, creating new designs and decor plans for spaces, studying and then putting all this acquired knowledge into our brand 'Fleurette' 
Now I am certified floral designer from the Institute of Floral Design which is accredited to the Instituto Mexicano Technico Floral (IMFT) in Mexico. 
I work full time in ideating, designing, creating, implementing and marketing for Fleurette. I am truly enjoying each and every moment of this exciting journey and am looking forward to many more successful years for our brand.